Meotida – was Sea of Azov ancient name, given to it by the ancient Greeks. Their ceramics was a huge success within the whole ancient world. At all times this region was visited by the best masters of ceramics. From year to year, the ceramics technique and skills have been perfecting, allowing the masters to create exquisite and fascinating works of art.
These days the exclusive faience products of the "Meotida" trade mark are produced exactly on this territory.

The first ceramic beer mugs appeared many centuries ago. This kind of art found its greatest distribution in Germany, where all the mugs were produced originally with lid. The German Beer Purity Law adopted in Ingolstadt in 1516 by William IV, Duke of Bavaria have played a significant role in this tradition.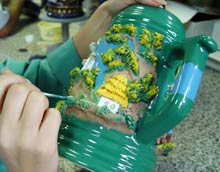 The museum of beer mugs, which earliest samples were produced as far back as the 16th century is situated in Bad Schussenried, Germany.
Every year our trade mark production gains hearts of increasing number of collectors and people with delicate taste used to take the best from life.
The secret of our trade mark success is our talented designers and painters who work on every part of the peace of art they are creating. Moreover, to produce our beer mugs we use only the world leaders' raw materials.
Join to the constantly growing number of connoisseurs of unique souvenir beer mugs ÒÌ "Meotida"!